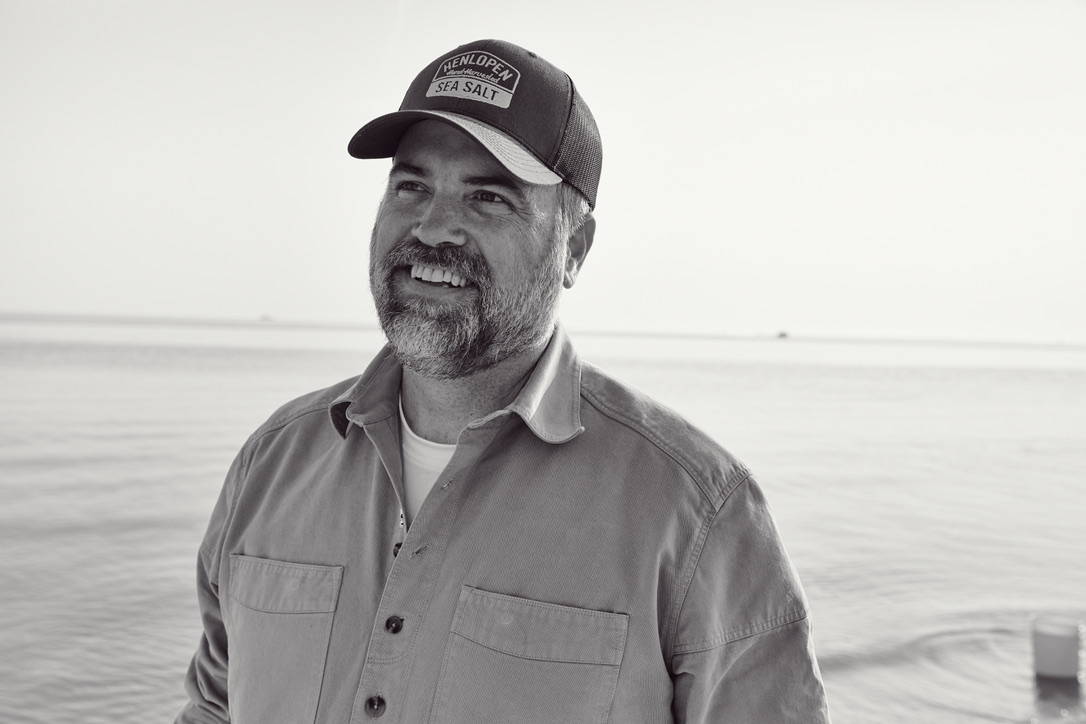 Photographs by Ian Mahathey
It all makes sense to me now…that I would end up making a living out of salt water. It just took me a long while to realize it.
I spent nearly all the summers of my youth on the water, near the water or in the water of coastal Delaware or coastal Rhode Island. Growing up in Delaware, I can remember digging for clams with my toes in Rehoboth Bay, dropping chicken legs to catch blue crab and learning how to ride a skimboard. Every summer my grandfather in Delaware and some friends would take my cousins and I on an overnight sailing trip down to Chincoteague, VA on the "Our Lil'," which to a young boy felt like a voyage to a faraway land.
And during those summers in Rhode Island, I remember picking mussels off the rocks and immediately steaming them for dinner. And clambakes. And being the kid who imported skimboarding to our New England community. I also learned to sail a Sunfish solo in Rhode Island (which took me a good long time to achieve). We would dive off rocks in the middle of the inland ponds, and ride on Skurfers behind someone's Boston Whaler. Those indelible images are all a part of me, and as I made a varied career as a serial entrepreneur, those experiences always stayed with me in the background. Whether it was owning the advertising sign boat in Delaware that trolled up and down the beach or naming my first restaurant after the grandfather we would visit in Rhode Island, my love of the sea was always there.
Which is why, after getting professionally sidetracked into a government policy role for five years, it was natural that I would return to the sea for my work.
I started making sea salt back in 2012. I saw a video on the Internet of another saltmaker here in the US who was extracting salt flakes from seawater, and my reaction was, "Well, I have saltwater, so I can do that, too." I took an empty gallon of milk, washed it out, and took it down to Lewes Beach. I filled it up, brought it back, and figured I could just boil away the water and I'd have salt. Suffice it to say I had something like salt at the end, but nothing anyone would want to eat.
Over the next few years, I'd put it aside for a while and then pick it back up. Through a lot of trial and error, and a few disasters, I learned enough to make a salt that was quite good, but far from perfect. I would use it in my cooking and give it away to friends, family, and co-workers as gifts. As the salt got better, and people started to ask for refills, I always knew that the day would come where it would be a self-sustaining business. That day arrived during COVID, when people started to really care about their food and their ability to source locally. I watched that year as many local food businesses took off in the region. So, in October of 2020, I launched Henlopen Sea Salt.
We started out doing everything by hand, from gathering water in five-gallon buckets all the way to stamping and sealing the final product. Our first batches were 10 gallons, which yielded between 24 and 32 ounces of salt. I'll admit it got quite brutal hauling 1,000 pounds of water up the beach to my truck twice a week in the heart of the winter. But it was always satisfying and worth it. To stand on the beach in February, wind whipping, with not a soul in sight is a feeling I'd recommend to anyone.
There is a deep sense of pride in making a product by hand, and a deep sense of appreciation for the ocean when I look at these bright, white flakes. I was proud during my time in government to help draft legislation banning offshore drilling in Delaware, as well as participating in several other initiatives pertaining to sustainability and ocean health. It has always been our ambition to be the region's local flake sea salt and to highlight the bounty of the sea here in the Mid-Atlantic. I have a strong sense of purpose when it comes to being part of the local food chain. And we're proud that so many top regional chefs have chosen to put our salt on their plates.
In the end, I'm where I want to be. I'm on the water, making a world-class product that top chefs and home cooks all over the region are using to enhance the flavors of their plates. That younger me, who spent all that time on the water, would be very proud.
Dave Burris, Atlantic Rancher – Lewes, Delaware